News
Organ-on-a-chip learning and collaborative event a great success
11 April 2019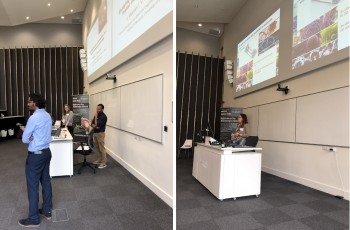 The morning talks from Researchers and Industry, chaired by ECR network member Dr Clare Thompson and Dr Pranav Vasanthi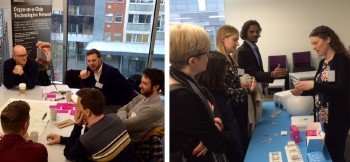 The workshops and industrial stands brought together groups from across the network
Close to a hundred academics and industrialists working in the field of organ-on-a-chip technology came to Queen Mary University of London on 8 & 9 April, for a learning and collaborative event organised by the Organ-on-a-Chip Technologies Network. The UK-wide network is providing a foundation for interdisciplinary research in this innovative technology area, funded by the UKRI Technology Touching Life Scheme.
The event provided a fantastic opportunity for people from varied disciplines to share information on Organ on a Chip (OOAC) research and current technologies; discover new opportunities to work together; and establish now best the network can drive forward organ-on-a-chip research and development in the UK.
Talks and demonstrations by industry representatives from BEOnChip, BI/OND, CN-Bio, Emulate and MIMETAS provided an important opportunity for network members to find out about OOAC models and platforms available on the market. These talks complemented the academic presentations, in which researchers were able to showcase their research, developing new OOAC technologies and models.
The network is particularly keen to encourage and support future leaders in organ-on-a-chip research, with skills training taking a big part at the event, and many of the research talks coming from early career researchers. Aya Aly, PhD student from Brunel University was inspired by the event: "Taking part in this event has allowed me to step out of the lab and see the bigger picture in the organ-on-a-chip field. I don't think I realised it was such a big thing! It's very motivating for me to see how this technology might make such a difference to healthcare research in the future…. and the part I may play in this. "
Collaborative working, particularly across disciplines who don't usually work together, has a particular role in multidisciplinary organ-on-a-chip research, and training in this area took centre stage on the first afternoon. University of Warwick's postdoctoral researcher, Dr Kathryn Murray, took part in the session saying: "The early career researcher workshop: 'Working Collaboratively', led by Fryni Panayidou at Queen Mary was excellent - giving me skills that will be an immense help to make any future organ-on-a-chip collaborations a success."
The network is also particularly keen to raise awareness of organ-on-a-chip research amongst public audiences, and Sarah Barnes from Queen Mary University delivered an extremely popular workshop covering public engagement skills. The network now has a new team of enthusiastic members, who Sarah will mentor as they develop exciting hands on activities and great science engagement!
Alongside the training, focused discussion groups looked at priority needs for our community and the ways in which we can address these, to create a strong, supportive network that can overcome current challenges and meet the needs of members. Our OOAC network is newly formed, but is already at 470 members, with a growing identity and real sense of community and purpose.
Watch this space!
Updated by: Julia Coffey