News
The Organ-on-a-Chip Shop - a Science Museum highlight!
29 January 2020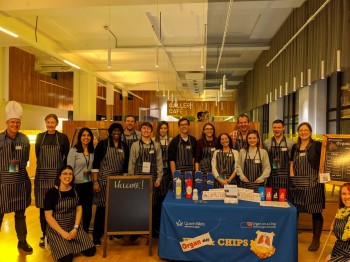 The Organ-on-a-chip team, L to R: Martin, Julia, Sarah, Aysha, Angel, Stephen, Matthew, Luana, Paul, Mina, Elisabete, Ashley, Chrysanthi, Stefaan, Clare & Natt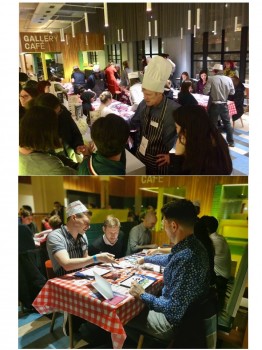 On 29 January, Organ-on-a-Chip Technologies Network scientists and engineers swapped their lab coats for aprons, to run the Organ on a Chip shop at the hugely popular Science Museum Lates in London.
This Lates night celebrated the launch of the Museum's new Medicine Galleries and attracted over 4,000 visitors. Promoted as one of the museum highlights, visitors flocked to the shop - hungry to know more about organ-on-a-chip technology and how it can make a difference to future research and patient care!
Museum visitors and researchers chatted about this emerging technology at the shop counter - before being seated in the café to design and make their own organ on a chip keyring. Using a variety of "ingredients" such as coloured beads, pens and tapes – representing the key cell types, 3D environments and mechanical forces present within the organ – visitors created their own lungs, brains, livers and joints, which, when miniaturised, were turned into key rings for them to take home.
Network engineers and scientists who helped run the shop came from a variety of Universities including Brunel, Oxford, Kent, Dublin, Cambridge and Queen Mary London.
The Organ-on-a-Chip Shop is funded and organised by the Organ-on-a-Chip Technologies Network, led by Prof Hazel Screen from Queen Mary University of London. Based on the concept of a fish & chip takeaway, the shop is a 'make and take' activity and the brain child of Network member Paul Holloway from University of Oxford:
"It was amazing to see so many enthusiastic people visit the shop to have fun and find out more about organ-on-a-chip technology. The shop's success couldn't have been achieved without the support of so many researchers willing to get involved. Nearly 300 organ chip keyrings were made by visitors which shows how busy the shop was."
OOACT Network Co-director, Martin Knight said: "The Network was delighted to fund and support the development of the Organ-on-a-Chip Shop. Paul's concept and design ideas were great and running the shop at Science Museum Lates was a fantastic opportunity for us!
"Following on from the success of this event - the Network plans to run the shop at various public venues round the UK… It's a great way for members of the public and researchers to engage more around this exciting technology –I think this event showed that the public definitely have an appetite to know more about organ-on-a-chip technology and its potential to drive healthcare innovation!"
The network is part of a major new Research Councils UK (RCUK) venture called Technology Touching Life [1] involving joint research council funding, which aims to foster interdisciplinary research into innovative technology in the health and life sciences.
If you are interested to find out more about the network, please visit our website www.organonachip.org.uk
https://www.ukri.org/research/cross-organisational-themes-and-programmes/technology-touching-life/
Updated by: Julia Coffey