Grant Ideas Workshop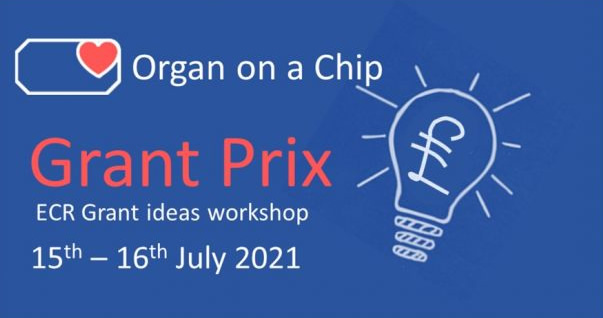 15 July  1pm – 6pm & 16 July 11am - 6pm GMT on MS Teams
Are you a  PhD student or Early Career Researcher (ECR) looking to start making your own grant applications? Join us at the Organ on Chip Grant Prix workshop. Compete in groups to develop the best Organ on Chip project ideas.
REGISTER NOW! It's FREE to attend and open to Organ-on-a-Chip Technologies Network members only. Only 35 places available  - apply before the closing date of 17 June.  It is essential for participants to attend both days.
Course outline
This course is for Early Career Researchers, designed and run by the Network's ECR Advisory Group. The workshop will help build the techniques needed to develop original project ideas and get your point across quickly and effectively for preliminary fellowship applications, seed funding and small project awards.
Meet other ECRs and develop ideas generation techniques from the comfort of your own home.
Get tips and tricks from funding bodies
learn of opportunities for pump prime funding and fellowships from the NC3Rs and AFRUK.
Hone your skills for seed funding and preliminary applications in this short grant writing workshop for ECRs.
Format
Two day workshop. 1pm – 6pm, Thursday 15 July & 11 - 6pm, Friday 16 July. Breaks are included with lunch break on 16 July.
Teams create a grant idea, hone it to an imaginary funding body, and compete for "funding" Interspersed with talks about effective grant writing and useful materials/tasks to help with ideas generation, collaboration and grant writing .
Expected numbers: 25 – 35 people for 5 to 6 teams.
Platform: MS teams, breakout groups will be pre-defined with access to prompts, resources templates and shared whiteboards.
Programme
More information on the workshop is available in the draft programme. 
Registration
If you wish to participate in this two day workshop, please complete the online registration form by 17 June. The information you provide will be used to help us pre-assign groups. Before the event you might be asked to complete participant profile/ stats card, and asked to think of some OoC relevant grant ideas or questions.
*Priority for places will be given to ECRs working in the UK. 
If you are not currently an OOACT Network member and would like to join - membership is free and available on our membership page.