News
Organ on chip funding sandpit goes virtual
5 October 2020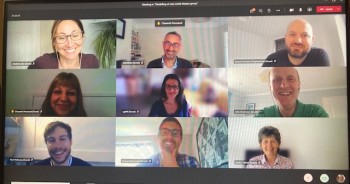 Modelling of real-world disease breakout group (from top left on screen: Elisabete Silva; Andrew Pitsillides; Gerard Cummins; Charareh Pourzand; Alessandra Granata; John Greenman; Paul Holloway; Tomasz Kostrzewski; Valerie Speirs)
Thanks to the new world of on-line events, the OOACT Network's sandpit – originally planned face to face in April this year – was run successfully in MS Teams from 29 September to 1 October.
This interactive funding sandpit event provided a great opportunity for 32 senior academics and industrialists from across the UK to work together – developing major grants proposals on vital OOAC research. Funders attending the event enabled participants to find out more about major funding sources and ask questions.
Martin Knight OOACT Network co-director: 'We ran our sandpit event in conjunction with opening our final project pump priming funding round. Sandpit participants will have the chance to apply for funds - helping to increase the success of securing major grants (> £1 million).
'We really want to drive forward research to address the major challenge areas within the organs-on-chips field - this event was a great springboard to start identifying these and encouraging people from different disciplines to work together to find solutions. This technology has the potential to revolutionise health research and treatment discovery, so we need to think big to achieve this!'
The event was delivered on Teams by Rebecca Steliaros from Research in Focus Ltd. Rebecca is a highly experienced independent facilitator who worked with the network's management team to deliver this event.
The sandpit ran with a mixture of presentations from funders, network directors and 1 min introductory slides from participants. Interactive sessions included brainstorming ideas to identify the greatest research challenges and selecting priority areas. Breakout rooms were then used to enable participants to work together on outline plans that could lead to a major funding proposal. Priority challenge areas included modelling real world disease; biomimicry and mechanics, vascularisation and immunity, standardisation & validation; multi organ systems; material manufacturing & sensing; and long-term cultures.
Sandpit participants were very positive about the benefits of taking part in this event.
Miriam Dwek, Professor of Cancer Biology, University of Westminster: 'The sandpit event was a great opportunity to meet researchers interested in OOAC. The facilitators really got the best out of us, they worked us very hard. The focussed break-out groups allowed us to develop our ideas in a supportive and inclusive environment. It was one of the best events that I've attended in years!'
John Greenman, Professor of Tumour Immunology, University of Hull: 'The event brought together a multidisciplinary group to discuss and debate the gaps and opportunities for using organs or tissue on a chip. The breadth of views and wide-ranging discussions identified a number of major goals as well as possible routes to reaching these; the ball is very much in our court to progress the actions.'
Hazel Screen, OOACT Network Director, is keen to keep the momentum going: 'We look forward to seeing how the big ideas and collaborations initiated at the sandpit develop in the coming months!'
The network is part of a major new Research Councils UK (RCUK) venture called Technology Touching Life [1] involving joint research council funding, which aims to foster interdisciplinary research into innovative technology in the health and life sciences.
If you are interested to find out more about the network, please visit our website www.organonachip.org.uk
https://www.ukri.org/research/cross-organisational-themes-and-programmes/technology-touching-life/
Updated by: Julia Coffey