News
Successful projects for the Organ-on-a-Chip Network & Emulate Proof of Concept Awards
28 April 2021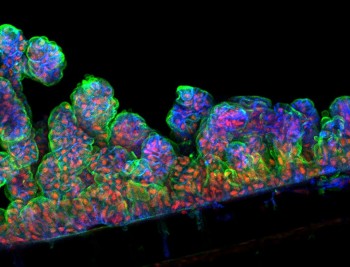 The Network and Emulate Inc. are pleased to announce that four projects were successful in the recent funding round for the Organ-on-a-Chip Network & Emulate Proof of Concept Awards.
The Queen Mary+Emulate Organs-on-Chips Centre, a new core facility at Queen Mary University of London, is open for Network members to develop their own models and to utilise or adapt the existing models which include, liver, kidney, intestine and lung.
This Proof of Concept Award provides researchers with the blank organ-chips and support from the Centre Scientists, in order to generate preliminary data to support new research grant applications.
The applications were reviewed by an expert panel including members of the Network leadership team and external experts. The four awarded projects in the second round are:
Investigating the role of tumour associated myeloid cells on malignant cell invasion in a metastatic high-grade serous ovarian cancer-on-chip model: Fran Balkwill (PI), Barts Cancer Institute, Queen Mary University of London
Generation and validation of a urine-derived, personalised kidney-on-chip model for kidney disease and nephrotoxicity: John Sayer (PI), Newcastle University
Establishing an 'old' and 'young' alveolar model to assess the impact of senescence on immunity to viruses: Emma Chambers (PI) Queen Mary University of London
Development of a human placental artery-on-a-chip to study placental vascular function in reproductive toxicology and pregnancy diseases: Teresa Tropea (PI), University of Manchester
Martin Knight, co-director of Queen Mary+Emulate Organs-on-Chips Centre: 'It's great to see so much interest from academics keen to run their projects in our Centre. This is our second funding call, so we now have a lot of different and exciting organ-chip projects using the Centre. These projects include those using the existing supported Emulate chips (Liver, Lung, Kidney and Intestine) as well as those developing bespoke organ-chips, all helping to drive forward our understanding of health and disease.'
For details of the different projects, please see our Centre website: www.cpm.qmul.ac.uk/emulate/projects/
The next call for Proof of Concept Awards is planned for September 2021.
More information about accessing the facilities can be found on The Queen Mary+Emulate Organ-in-Chips Centre website. If you are interested in using the Centre, please contact the Centre Manager/Scientist Dr Clare Thompson: clare.l.thompson@qmul.ac.uk
The network is part of a major new Research Councils UK (RCUK) venture called Technology Touching Life [1] involving joint research council funding, which aims to foster interdisciplinary research into innovative technology in the health and life sciences.
If you are interested to find out more about the network, please visit our website www.organonachip.org.uk
https://www.ukri.org/research/cross-organisational-themes-and-programmes/technology-touching-life/
Email:
network@organonachip.org.uk
Link:
http://www.organonachip.org.uk
Updated by: Julia Coffey