News
'A cookie's journey to the brain' – an interview with the filmmakers
23 November 2021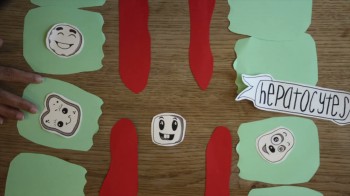 A still from 'A cookie's journey to the brain'. Watch the full video below.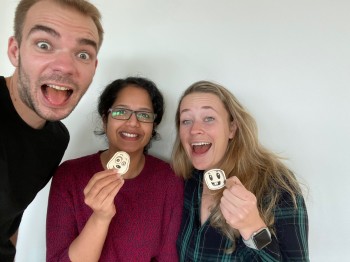 The film production team: Flavio Bonani, Arya Lekshimi Nair & Haley Ehlers
Flavio Bonani, Haley Ehlers and Arya Lekshimi Nair are three PhD students carrying out research on organ-chips with Mimetas in the Netherlands. Inspired by the three-minute film competition, run by the Organ-on-a-Chip Network's Early Career Research Advisors, they decided to work together to produce a short film titled: A cookie's journey to the brain.
Network administrator, Julia Coffey, interviewed Flavio and Haley to find out more.
How did you choose the story line for your film?
We each work on different organs… Haley – vascular, Flavio – liver, and Arya – the brain… so, we needed to find a story that could unite our different projects. Digestion seemed the obvious answer as it shows the transit of nutrients, via circulation and liver metabolism, to the brain. We then linked this to the organ-chips we are working on in our projects and explained how they can help us better understand the biological processes, including disease.
Why did you choose animation as the method to make your film?
We wanted to make the film fun and started with the idea of using dance - but this was embarrassing…. so quickly decided that none of us really wanted to be in front of the camera! Animation seemed a much better choice… only Flavio was required to do a bit of acting as the student trying to study and eating a cookie to help energise his flagging brain!
Stop motion animation was a good option – it's pretty simple. We spent a couple of fun evenings round at Haley's flat - drawing and cutting out all the pieces to use in the film and then playing about with them on the kitchen table to set up each shot. The kitchen had the best lighting which was lucky too!
Haley used her digital SLR camera to record the video of Flavio and take over 400 stills for the animation, images of cells and organ on chip models were added from photos we already had. Finding a room with good acoustics was key for Haley to record the voiceover - her flat mate's bedroom ended up being the best place as the kitchen had too much echo and we needed to avoid the traffic noise! It was quite tricky for Haley to record this in time with the film, but it worked out fine in the end. Haley used her skills with iMovie to produce the film.
Who did you have in mind for your audience?
As part of our PhD, we're encouraged to get involved with outreach and public engagement - so creating a film was a great opportunity for us. We focused on high school students as our main audience - hence the hungry student eating the cookies! But we hope it will be fun and informative for wider audiences too.
What advice would you give to other young researchers thinking of creating a short film for the public about their work?
We really enjoyed working as a team – you can bounce ideas off each other and it was much more fun for us than making it on our own. It's probably best to have a small team though, to cut down on too many different opinions! It's important to find a story idea that unites the team members different projects. Making a film that is fun to watch is important, particularly if you're aiming for a young audience, so animation was a great choice for us.
Making the film was a bit daunting at first, but very enjoyable. We've learnt new skills, particularly how to make our science fun and easy to understand for public audiences – Favio's mum helped provide some audience feedback once we'd made the film! We'd definitely recommend other researchers to have a go.
And finally… Is there anything else you'd like to add?
Yes – we'd like to point out that only two cookies were harmed in the making of this film!!
---
The network is part of a major new Research Councils UK (RCUK) venture called Technology Touching Life involving joint research council funding, which aims to foster interdisciplinary research into innovative technology in the health and life sciences.
Updated by: Julia Coffey